---
---
---
above : FIB-assisted evaporation of gold across a 15-microns-diameter gold-coated glass fiber.
Thermomètres microfabriqués
Présentation des objectifs scientifiques
L'objectif est de résoudre des structures turbulentes à des échelles spatiales de quelques dizaines de microns dans une cellule de Rayleigh-Bénard cryogénique fonctionnant entre 4 K et 8 K.
Principe et Réalisation
La matériau thermométrique -du Niture de Nobium recuit- est déposé sur une fibre de verre. La résolution spatiale attendue est définie par la taille du point sensible, ici environ 15 microns x 5 microns.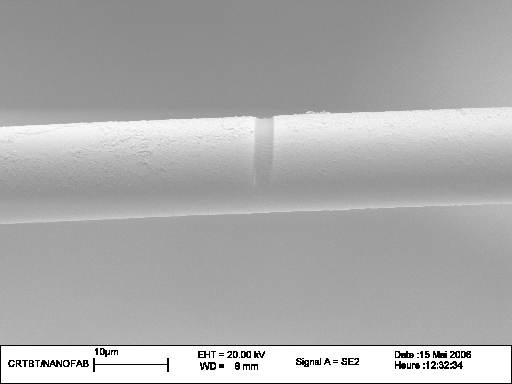 zoom on the thermo-sensitive part
Partners
Cette étude est menée en collaboration avec Olivier Bourgeois (dépôt de NbN) et le pôle Capteur.
For more information
Transition on local temperature fluctuations in highly turbulent convection
Gauthier F., Salort, J., Bourgeois O., Garden J.-L., Du Puits R., Thess A. and Roche P.-E.
EPL
87
:4406 (2009)
download
-
Link to Publisher
---
sitemap

Ph.R. Jan, 2012