---
---
---
above : miniature cryogenic pressure fluctuations probe (liquid helium flows from left to right).
Cryogenic miniature Pitot tube anemometry
Présentation des objectifs scientifiques
L'objectif était de sonder les fluctuations de la vitesse en un point d'un écoulement d'hélium superfluide puis de les comparer aux fluctuations obtenus dans les même conditions dans un écoulement d'hélium liquide non superfluide. Compte tenu des écoulements sondés, les capteurs devaient donc être sub-millimtriques, présenter une bande passante d'au moins 500 Hz et être insensible à l'état superfluide ou classique (c-a-d "Navier-Stokes") de du fluide.
Principe et Réalisation
La piste présenté ici à été de miniaturiser des tubes de Pitot ou des capteurs à pression de stagnation ("total pressure head tube"). Les résolutions spatiale et temporelle obtenues (500 microns / 1 kHz) ont mis en évidence des spectres de type Kolmogorov dans divers écoulements superfluides.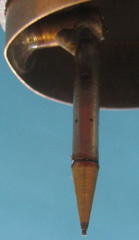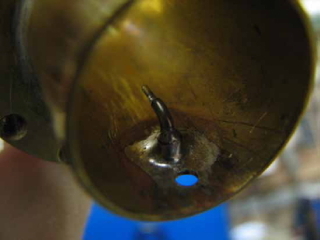 LEFT : Pitot tube with straight nozzle - RIGHT : Stagnation pressure anemometer with bent nozzle
For more information
Turbulent velocity spectra in superfluid flows
Salort, J. , Baudet, C., Castaing, B., Chabaud, B., Daviaud, F., Didelot, T., Diribarne, P., Dubrulle, B., Gagne, Y., Gauthier, F., Girard, A., Hébral, B., Rousset, B., Thibault, P. and Roche, P.-E.
Phys. Fluids
22
:125102 (2010)
download
-
Link to Publisher
---
sitemap

Ph.R. Jan, 2012