---
---
---
picture above : velocity field in a superfluid turbulence box (vapor visualization freeware)
Superfluid Turbulence : Numerical simulations on supercomputers
Images
Images of quantum / superfluid turbulence
(for animations / videos,
click here
)
Results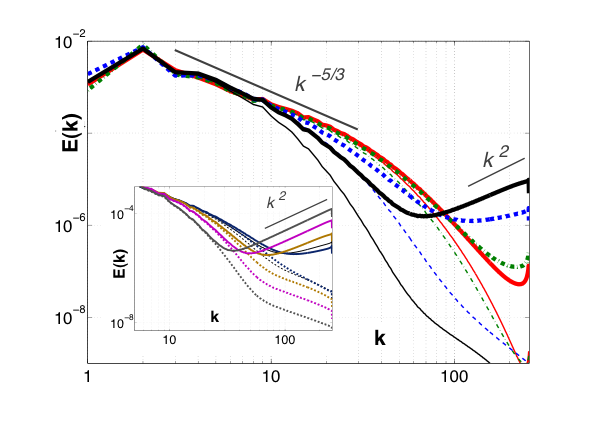 Spectra of velocity in superfluid turbulence with evindence of bottlenecking at low temperature in DNS simulation of the two-fluid model truncated at a scale corresponding to the inter-vortex spacing. (see EPL 2011)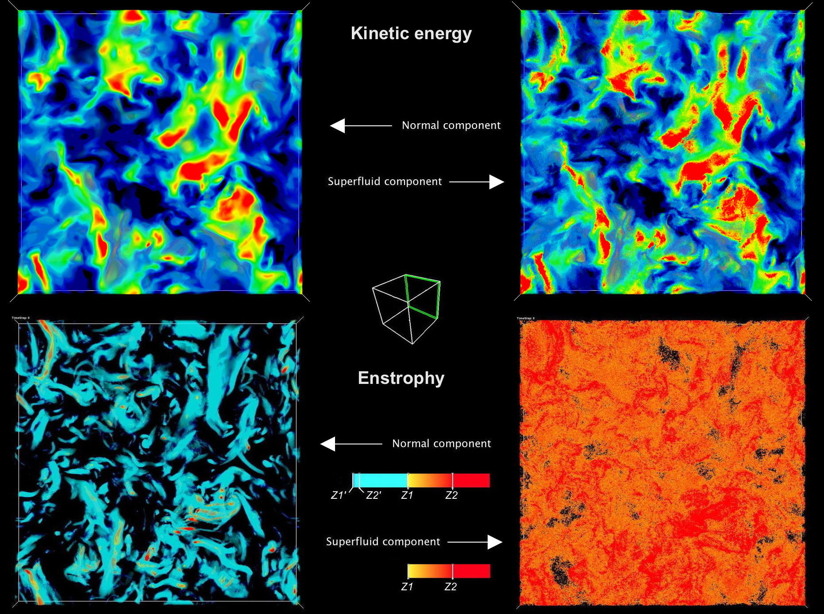 Snapshots : normal versus superfluid components
For animations / videos, click here
Kinematic Energy of the superfluid (left) and normal fluid (right)locked by mutual friction
For animations / videos, click here
Partners
This work is done in collaboration with Emmanuel Leveque from the ENS Lyon. Our first steps in this field were initiated thanks to an original idea of Carlo Barenghi from the University of Newcastle, UK (see our EPL 87:54006 [2009] ).
The CPU ressources are provided by the CINES/GENCI and by the PSMN.
For more information
For additionnal information, see
Energy cascade and the four-fifths law in superfluid turbulence
Salort J. , Chabaud, B., Lévêque, E. and Roche P.-E.
EPL 97:34006 (2012)
download - Link to Publisher - hal-00635578 - arxiv:1202.0710


Mesoscale Equipartition of kinetic energy in Quantum Turbulence
Salort J. , Roche P.-E. and Lévêque, E.
EPL 94:24001 (2011)
download - Link to Publisher - hal-00586900 - arxiv:1202.0579


---
Plan du site

Ph.R. Jan, 2012