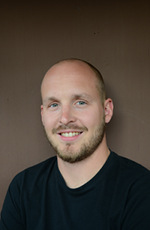 Adress : 25 avenue des Martyrs
BP 166
38042 Grenoble Cedex 9
Office : Z 221
Phone : +33 4 56 38 71 77
I am a physicist working at the Neel Institute in Grenoble. I am a member of the QuantECA team.
The experiments I am developing aim at illustrating the quantum properties of nanostructured devices. I am focusing on superconducting quantum circuits where degrees of freedom such as the charge or the phase behave quantum mechanically.
These circuits are cooled down very low temperatures (few tenth of milliKelvin above absolute zero) using dedicated cryogenic technics such as dilution refrigerators. Moreover we are probing our devices using high frequency electronics (In the GigaHertz or microwave range). Thus we enter the quantum regime of electrical signals where the frequency is large compared to the working temperature. We can then speak about microwave photons and describe this electromagnetic radiation as light quantas.
By combining these circuits -the matter- and microwave photons -the light-, we can probe the light-matter interaction at a very fundamental level and with excellent control. These experiments can be viewed as the electrical dual of the ones usually performed in Atomic and Molecular Optics (AMO).