Many-body quantum optics with superconducting circuits
The use of superconducting circuits as building blocks for studying light matter interactions at the fundamental level was introduced more than a decade ago and is named Circuit Quantum ElectroDynamics (circuitQED). With this project we want to push these ideas to the next level and build circuits to explore many-body quantum optics.
The key element of these circuits is the Josephson junction, two superconductors separated by a thin insulating barrier. Depending on their size, such junctions can be operated in the quantum regime (size ~ hundreds of nanometers by hundreds of nanometers) or in the classical regime (size ~ several micrometers by several micrometers). In the quantum regime, thanks to their huge non linear inductance they can be used for fabricating quantum two level systems or quantum bits (qubits). In the classical regime, they provide very large and tunable inductances. By making arrays of such classical junctions we can obtain a new type of metamaterials: high impedance and tunable transmission lines.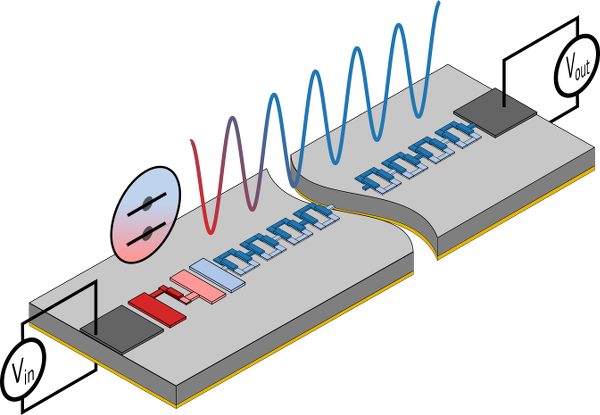 In this work we are interested in studying a qubit strongly coupled to such a metamaterial, which contains many electromagnetic degrees of freedom (called plasma modes). By tailoring the properties of this metamaterial (more specifically its characteristic impedance), we can enhance the qubit-plasma modes coupling up to the ultra-strong coupling regime.
We couple the qubit (in red on the figure) via coupling capacitors to an array of 4700 Josephson junctions (in blue). We probe the system via microwave transmission measurements. We obtain a strong hybridization of the qubit levels with several modes of the environment and thus demonstrate an on-chip many-body system.
Related Publications:
Particle production in a waveguide ultra-strongly coupled to a qubit
N. Gheeraert, X. H. H. Zhang, S. Bera, N. Roch, H. U. Baranger and S. Florens,
Arxiv 1802.01665 (2018), Arxiv
Probing a transmon qubit via the ultra-strong coupling to a Josephson waveguide
J. Puertas Martinez, S. Leger, N. Gheereart, R. Dassonneville, L. Planat, F. Foroughi, Y. Krupko, O. Buisson, C. Naud, W. Guichard, S. Florens, I. Snyman, N. Roch,
Arxiv 1802.00633 (2018) Arxiv
Stabilizing Spin Coherence Through Environmental Entanglement in Strongly Dissipative Quantum Systems
S. Bera, S. Florens, H. U. Baranger, N. Roch, A. Nazir, and A. W. Chin,
Physical Review B 89, 121108(R) (2014), Arxiv | Phys. Rev. B